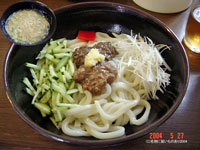 Jyajyamen (Before stirring)
Home > Iwate

Morioka City, Iwate, Japan

Raw Materials: udon, leek, cucumber, meat miso, grated ginger and red ginger
Jyajyamen

Among the three major Morioka noodles (rei-men, wanko zoba, and jyajyamen), Morioka cold noodles and wanko zoba, which are now nationally recognized, are famous, but this jyajyamen is also popular in Morioka. Recently, Jyajyamen has become available in places other than Morioka (Sendai and Tokyo).

Jyajyamen is a long-established pylon restaurant, but it's hard to get to Morioka. So, I went to a shop near me.




The Jyajyamen that came out was topped with cucumbers, green onions, red ginger, spicy miso, vinegar, chili oil with sesame seeds, grated garlic and stirred heavily. Jyajyamen is a strong kind of udon with ingredients like ethnic or Southeast Asian spicy miso instead of the soy sauce of bukkake soy sauce udon. No matter how you eat this noodle, it's still udon... But it's a good udon with a strong waist.

After the meal, add the egg to the leftover ingredients, the boiled soup of the noodles, and the meat miso, and you're done. It looks like an egg soup, but this was also a strange taste that I don't usually have.



Afterword)
Jyajyamen doesn't have anyone who says it's good from the beginning, so you start to think it's good after about the third time (when you've got your own taste), and after that you're all hooked.
Incidentally, "Jaa-ja-men" in Chinese cuisine is a Chinese noodle, and this is an "udon type" noodle.

p.s.
As I was watching the news, I was surprised to see Pylon in "Udon Tenkaichi Kessen 2017"... What? You're glad you're in the udon crew? The feeling is that.