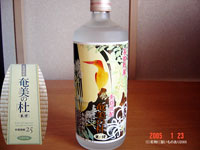 Kokuto-Shochu Amamino-Mori Satono-Akebono
Home > Kagoshima

Tamachi-Shuzo Co., Ltd.
3321 Ogachi, Tatsugo-cho, Oshima-gun, Kagoshima, Japan

Raw Materials: Brown sugar, rice malt
Alcohol content: 25 degrees Celsius
Kokuto-Shochu

We often hear about "Kokuto-Shochu" as a recent trend, but I've never passed my own throat. And I happened to see a Kokuto-Shochu corner at the Kyushu product exhibition, so I asked him about it and he said, "This is only in Kagoshima. What this means is that "the production of liquor made from brown sugar is permitted only in the Amami Islands under the Liquor Tax Law (preferential treatment when returned from the United States). I didn't know there was such a liquor tax law. Perhaps Awamori too...

Kokuto-Shochu is made by fermenting brown sugar with rice malt and yeast, which gives it a faintly sweet aroma, but has zero sugar content.




It is a colorless distillate. Then, when I brought it to my mouth, I didn't know what it was, but it was good. I'm not a connoisseur to talk about shochu, but I know that it's good. It's strange that I don't feel the slightest bit that its predecessor was brown sugar. Hmmm, can I say that it's elegant, mellow, and has no habits.

I tried to smell Nikaido, the barley shochu that I sometimes drink, and even Nikaido, which I thought was pure, had a strong smell.

Yes, if you say it has a faintly sweet aroma, you might think so, but if you drink it without any knowledge, you won't feel any sweetness. Well, to put it simply, it's a syochu liqueur with little aroma.