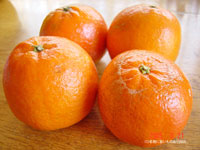 Tankan From Yakushima
Home > Kagoshima

JA Amami Naze-Shisho
19-2, Naze Kohama-cho, Amami City, Kagoshima, Japan

Harvest Season: Early February to late April (Amami Oshima)

It is said that vitamin C is about twice as much as the Wenzhou mandarin oranges!
Tankan

What is Tankan? Yes, there are so many kinds of citrus fruits in Shikoku, Kyushu and Okinawa that I always have no idea what they are. Most of them are fruits that you've heard of, even if you've never eaten them, but I've never heard of Tankan. So, I'd like to have one of them.

The Tankan is a natural hybrid native to Guangdong Province, China, and is said to have its roots in oranges, ponkan, and even tangerines. In Japan, it is cultivated in the south of Kagoshima and especially in Amami Oshima, where it is said to be most common.




The Tankan has quite a few scratches on the surface that make you wonder what the hell it is when it's placed with other pretty fruit. In fact, there was this Tankan in the assortment of fruits. Well, I guess it's because it's close to pesticide free, or it's because it's naturally grown...

The reddish, tangerine-like color of the Tankan has a circular shape similar to an orange and a faint citrusy scent when you approach the nose. When I peeled it off, the skin was thinner than I expected and the fruit inside was large. You can peel off a bunch of tangerines and eat them as they are, just like you would eat a tangerine normally.

The taste is (perhaps by chance) light with little sweetness or sourness, juicy and easy to eat. So the Tankan is a little bigger than the size of a tangerine, but it's easy to eat one. Also, the seeds were in only two clusters in one, one seed at a time. Well, roughly speaking, it's similar to a deco-pon.