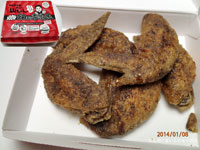 Yama-chan of the world, Phantom Tebasaki
Home > Aichi

Co., Ltd. AY Food Nagoya-honsha
1-22-24 Shin-Sakae, Naka-ku, Nagoya City, Aichi
Tebasaki

At Nagoya's famous "Tebasaki", the original "Furaibo" and the later "Yama-chan of the world(Sekaino-Yamachan)" are competing (don't forget Tsubasaya, too). Both have more than 30 stores in the city of Nagoya, and both have established themselves as local classics, beloved by locals and delighted by tourists. Yama-chan of the world has more than 20 stores in the Tokyo area, and has also been seen on TV, and is now well known throughout the country (as of 2014).

Actually, a long time ago, a friend of mine took me to Tebasaki's shop in Nagoya, Japan. I was too busy living my life mentally to care much about food, and I don't remember the name of the place at all. I just don't understand why you eat so many bird skins and so many bird skins. I wanted to eat sashimi at a regular pub, but I was left with a feeling of bewilderment. Again, a friend asked, "How's it going? How about that? He would ask me how I felt about it...

So I bought "Yama-chan of the world, Phantom Tebasaki" which was sold at the product exhibition for the first time in a long time.




When I looked at it, I saw a small Tebasaki, which I don't usually see very often, fried to a crisp and sprinkled with black pepper. When I sniffed the smell, it was full of pepper. If you fold it in half and eat it like a chablis, hmmm? This is good. No wonder it's so popular~. This is powerfully delicious and can compete with Kentucky Fried Chicken. But afterwards, my mouth is so hot and tingling. On top of that, my hands are so sticky when I start eating this, I have no choice but to keep eating this.

Well, the basic rule is to serve 5 or 6 servings, but at this spiciness, I only needed 2 servings (maybe because I'm eating something else).



Afterword)
Nagoya's tebasaki karaage started as a way of making effective use of tebasaki, which was originally used only as a soup stock. That's why the meat is so thin and small, he said.