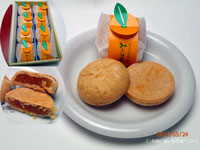 Mikan-Monaka
Home > Kanagawa

Co., Ltd. Shoei-do Miraku-an
230 Miyakami, Yugawara-machi, Ashigarashimo-gun, Kanagawa, Japan

Category: Mikan-Monaka
Raw Materials: sugar, white kidney beans, glutinous rice, marmalade (summer mandarin), mandarin juice, gelling agent (pectin), acidifier (citric acid), preservative (sorbic acid)], maltose, starch syrup, flavoring

Best-Before Date: 2 weeks
Mikan-Monaka

I'm a sucker for mochuts, so when I heard the name "Mikan-Monaka", I didn't like it at first. However, this "Mikan-Monaka" was designated as a Kanagawa Prefecture confectionery in 1964 and has been sold for nearly half a century.

It is the signature product of Marakuan, a wagashi shop in Yugawara Onsen, which is made from local mandarin oranges. It seems to be a quirky thing with white bean jam and marmalade wrapped in the middle. Hmm, well, let's try it~.




When you open the tangerine-like package, you'll find two hemisphere-shaped middles that form a single tangerine. And when I cut it in half, there is a translucent jam inside. When I tried it, there was a slight tangerine aroma throughout, and at times it had a strong aroma and a zesty texture that reminded me of marmalade jam. Hmmm-hmmm, I guess the basic taste is white bean paste, but the refreshing taste of tangerine surpasses it, isn't it?

Well, one packet per person is just the right amount of refreshment for me. Well, is it a Japanese confectionery or a Western confectionery?